Meet Agnes, a dog that can only be described as a true survivor.
Poor Agnes had to endure around 6/7 years of torture from her owner. The rescue tried to take her from her owner many times, but sadly as there is no law enforcement in Romania against animal cruelty, we could not get her.
Agnes was beaten weekly by her owner and chained to the wall. In October, Agnes' owner finally had enough of her and strangled her with a cord. She managed to escape, but was then purposely run over by the same man.
By sheer unbelievable luck, Agnes also survived this and the rescue finally got to her just as she was about to die. She was so malnourished she could barely stand before this horrific ordeal, let alone after. She lay flat for over 2 weeks not even able to lift her head.
Thankfully Agnes is now slowly recovering after numerous surgeries, 24hr IV drip and 4 weeks in the Intensive Care Unit. She has a little way to go before she is rehabilitated and ready to find a family to love her.
Agnes' injuries included broken front and back legs with numerous breaks throughout the legs and some being over 5 weeks old. The bone in the front leg had completely come out and was protruding. She was also suffering from severe anaemia, malnourishment and general lacerations to the body.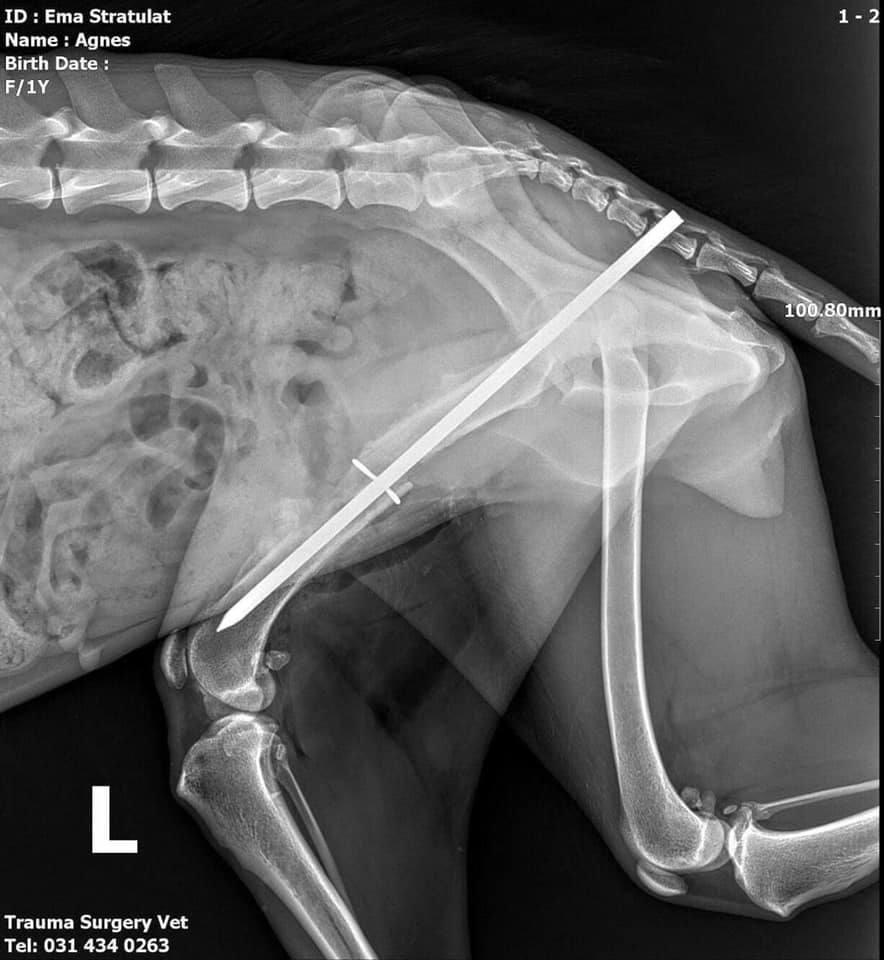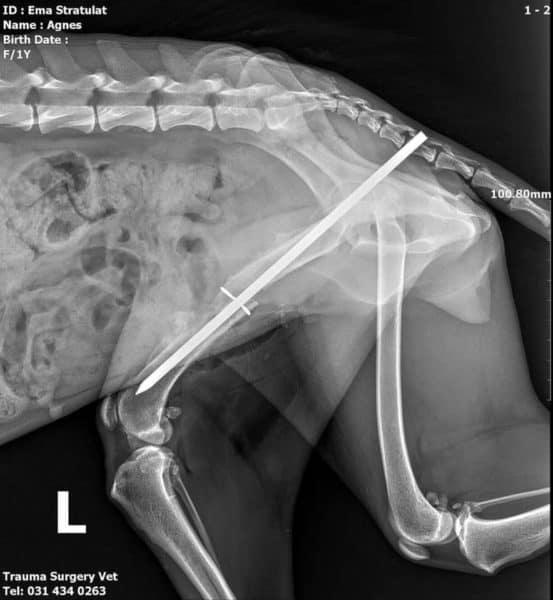 Agnes has now had corrective surgery on both legs. Her front leg had an external fixator fitted to keep the metal pins in place that set the bone. Now the bone has begun to set, she will need further surgery to remove the external fixator and also to remove the pins from her back leg.
It has been a very long road for this little trooper, but she has the entire Flori's team backing her every step of the way. Amazingly, despite all she has suffered, she still likes humans and we look forward to finding her the loving forever home she deserves as soon as she's fully recovered.
If you can help us to get Agnes the treatment she needs, please send a donation. Thank you.