Giselle is a young, healthy and happy dog. There's just one problem. Due to a horrific accident she only has one fully working leg. Specialist animal rescue team, Flori's Friends Rescue, has taken on its most complex challenge to date, and is supporting her to get another chance at life. But they need your help.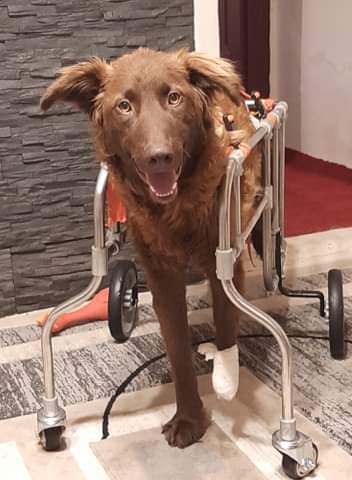 Flori's Friends Rescue specialises in disabled dogs and has an amazing track record of helping those that everyone else has given up on and giving them a whole new lease of life.
Founded by Natalia George in 2015, the UK registered charity, based in Kent, has rescued over 1500 dogs and cats across the UK and Europe, with some coming from the most horrific conditions.
Flori's takes on animals that have very serious injuries that, due to the very high expense of providing long term medical and rehabilitation treatment, other charities won't take. But for Natalia and the team at Flori's, every animal deserves a second chance at a happy life and they regularly move heaven and earth to give them a new, loving and happy home for the rest of their days.
Giselle was hit by a car and left laid in severe pain at the side of the road for 6 days, until someone found her and alerted the team at Flori's. She had suffered a complete spinal break, and, due to the time she was left at the roadside, her spine had fused together. This has left her needing a prosthetic for her damaged front paw and a four-wheel cart to support herself and get her mobility back.
Natalia, who has extensive experience in animal nursing, husbandry and a 1st class honours degree in animal biology, said 'With the right treatment, rehabilitation and equipment, these dogs can live a happy and fulfilled life, just as disabled humans can. For Giselle, it is slightly more complicated, because she requires a four-wheel cart, rather than the more common two-wheel cart, as well as a prosthetic, but there's no reason why such a young and otherwise healthy dog, can't go on to enjoy her life like any other pet.'
Giselle will need a custom made quad from America that will support her whole body at an even balance, which will allow her to move in all directions and chase about outside. She will also need to travel to a specialist clinic in Oxford to have a custom made front prosthetic paw, which will also give her more movement when not using the cart.
Flori's Friends is therefore busy fundraising to cover the cost of Giselle's treatment, custom made cart and prosthetic front paw. The total cost is estimated to be around £5k, which is a huge amount for such a small charity and therefore, the team are asking the public for help to raise the funds and show Giselle, that not everyone will turn their backs on her. If you can help, no matter how small, please donate via www.justgiving.com/campaign/giselle or text FLORI to 70085 to donate £1. To donate any amount between £2 and £20 text FLORI and the amount e.g. FLORI 7 you will give £7. Texts cost £1 plus one standard rate message.
Natalia continued, 'Giselle loves playing with her toys and bones, just like any other dog. Once we've got her the help she needs, she will be found a new forever family that can give her the love that she deserves and a whole new chance at life. Please help her if you can.'