Update 23/03/21: Bruno has sadly gone over the rainbow bridge
It is with great sadness, that yesterday evening we had to make the heartbreaking decision to have Bruno put to sleep. If you follow us on social media, you will know Bruno had become seriously unwell over the past couple of weeks due to a large mass found on his bladder. Unfortunately, Bruno's condition has been deteriorating (after 5 weeks of trying every treatment possible) and he was admitted to the vet yesterday after losing weight, no longer wanting to stand and very unhappy. He was also passing very dark hemorrhagic urine with clots the size of golf balls.
Bruno was put under general anaesthetic for further investigation and we were informed that he had an extremely severe inflammation of his bladder, the worst the vet has ever seen. With such a severe necrotic urinary infection, which extended to the entire urinary tract, and Bruno not responding to any medical treatment, the vet sadly informed us that there wasn't any chance that we could get Bruno back to a good quality of life, and the kindest thing was to let him go as he would only deteriorate even further.
This was such a hard thing for us to hear as we had all fallen in love with Bruno and he was still such a young dog. The whole team has been devastated that we could not save him, but in the end, you have to do what is right for the dog and it was clear that Bruno was suffering.
Bruno had team Flori with him as he passed, he was not alone and we hope that although things didn't work out for Bruno as we would have liked, he knew how much we all loved him.
Thank you to our amazing vet, Enrico M. Cecchetti for trying everything possible to help Bruno, we cannot thank you enough for the amazing level of care you put into him. Thank you to all the people who also followed his journey.
Team Flori x
Original Post 21 January 2021
Meet the ever so handsome black Romanian shepherd, Bruno. This poor chap has been through so much in his short life. He was run over at high speed and left in a ditch to die.
Luckily, a member of the public found him extremely quickly and we were able to assist within one hour. He was rushed to a spinal specialist immediately where he underwent an MRI scan and a number of X-rays. The team were sure he would be paralysed for life and become one of our wheelchair dogs.
However, good news then followed! Due to us getting to him so fast, the surgeon told us he was able to do spinal surgery that would allow him to regain his mobility.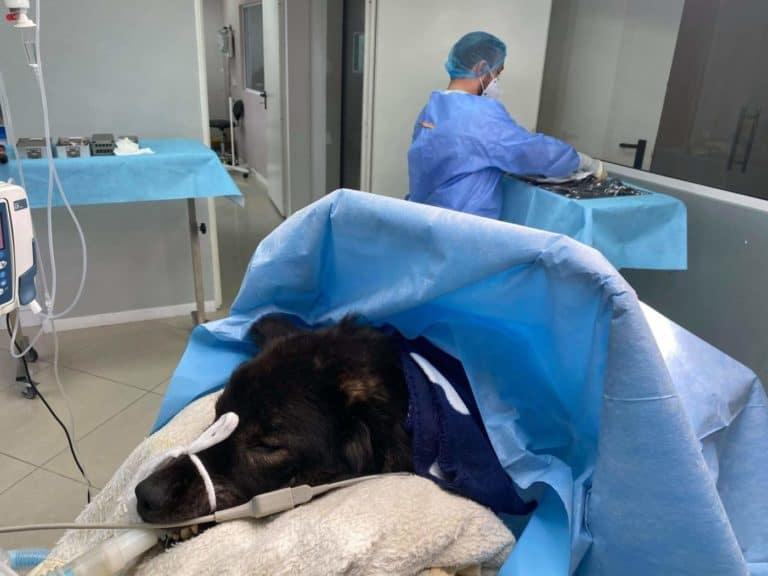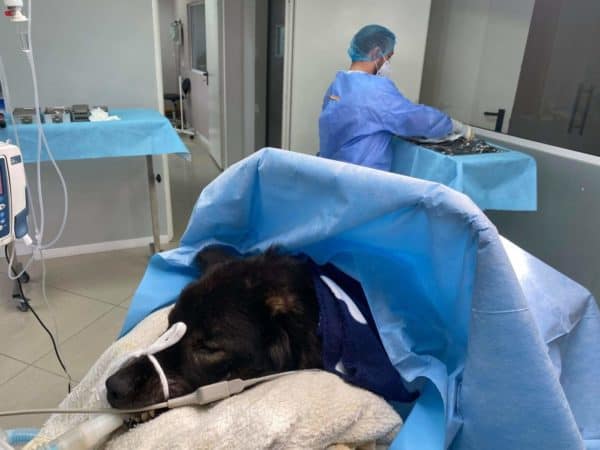 Whilst he was under anesthetic, the surgeon also removed a hernia from the accident and neutered him. The amount of pain Bruno has endured is just unimaginable.
Bruno has since made a full recovery and is walking around and enjoying his daily walks and play with the other dogs in foster.
This boy has a true zest for life and just adores dogs and humans of all sizes. He will make someone an incredible family pet with all the love and cuddles he has to give. Bruno knows how to play nicely with large and small dogs.
Bruno has one special need and that is the fact he needs to wear a belly band (this is a band that pops around his willy when he is inside to catch any urine that sometimes leaks out – he has not regained full bladder control from his accident. This band is so easy to put on and take off in just a matter of seconds and is machine washable and very cheap to re buy if needed. It is also guaranteed to make sure there is never any indoor accidents, so a very helpful tool in general. He is fed once a day only so that he can control pooping – he learns to go when out on his walks.
Anyone adopting Bruno needs to be mindful that he has been through such a tough time and deserves a home that doesn't mind the fact that he needs a little settling in time to learn his poop time (when he knows he has his daily walks). He will come with a bag of food, a belly band (a link to show you where to buy more if needed), a pet passport, 1 year of vaccines, access to a 24hour telephone dog trainer, wormer, flea treatment and microchip. He is also neutered.
Please get in touch if you can give our handsome bear a place to call his very own. He is in foster in Ramsgate, Kent and available to meet outside with one of our trained team members (at a distance and wearing a face covering). Bruno is around 35-40kg.
If you would like to help more dogs like Bruno get a second chance at life, please consider sending a donation. Thank you.