Goodbye to our lovely Daisy
Our beautiful, much loved, golden oldie Daisy sadly crossed the rainbow bridge on 12th February.
Daisy arrived on 5th December and was cared for and loved by Sam and her son Bob. She underwent a successful rear double leg amputation and regained her mobility inside and began enjoying life outside all over again with her custom made wheelchair.
We were all very excited for her as she had a beautiful home lined up. We believed her battle had been won. However, Daisy was very suddenly unwell and quickly diagnosed with a cancerous tumour well attached to her vulva (unrelated to her disability or previous ops) and the prognosis was that Daisy would only live for a few more days. She was clearly in pain and suffering, and so we took the painful decision to do the most humane thing we could, which was lay her to rest.
She was not alone at the end, she had Team Flori cuddling her the whole time and stroking her head as she passed away in dignity, in peace and filled with love from the people who had cared for her.
We honestly regret nothing we had done to save her and would do it all again tomorrow. She spent her time with us being cared for and loved and was clearly happy.
An unbelievably big thank you to Sam for looking after her and to Clare, her adopter who didn't get to take her home. Daisy's ashes will be made into two lockets (specifically sponsored by a supporter). One will stay close to our hearts and the other will go to Clare so Daisy finally gets to go home to her mum. Finally, thank you and condolences to Georgiana Neagu a special human who cared for her before we did and gave her that initial chance to be shown compassion and respect.
Update on Daisy – 5th February 2021
Daisy is now ready to find her forever family!
She has recovered well from her amputation surgery and has been fitted with her special wheelchair, which means she is now getting around and enjoying life again like any other dog.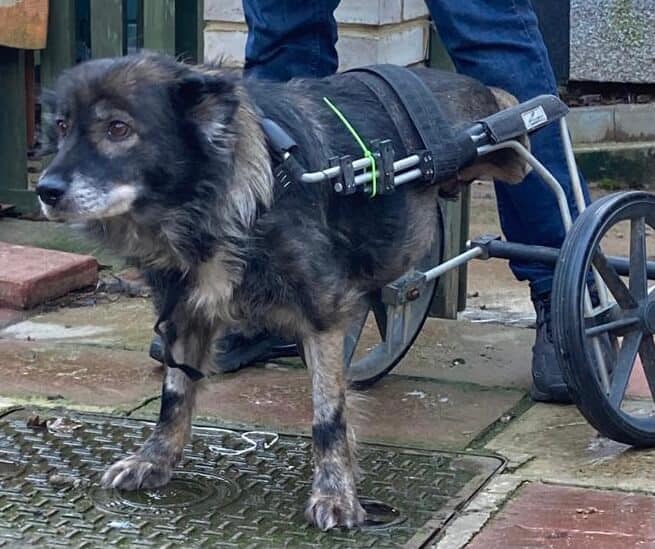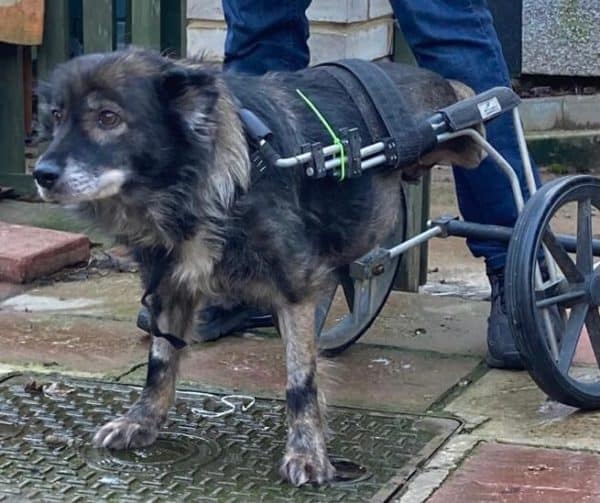 Daisy is an older girl so doesn't need hours of exercise, a few nice short walks throughout the day are ideal for her. She can live with both dogs and cats and children over the age of 5.
At home, Daisy wears a nappy that needs to be changed twice a day (the team will brief any adopter on her daily routine – it really is not as complex as it may seem, it's just a nappy change and then holding her upright for a pee).
She does not move around a great deal yet at home, but may start once she gains some more strength. Anyone with stairs, do not worry, she is trained to sleep downstairs at night.
We would absolutely love nothing more than to see this girl with a place to call home. She is in foster in Birchington, Kent and available to meet safely outside at a distance and wearing a face covering.
After everything this girl has been through she still adores humans. She will do anything for a cuddle and will provide any home with oodles of love.
If you think you can provide Daisy with a loving new home, please get in touch.
Daisy's rescue – December 2020
Say hello to the gorgeous Daisy, a truly special golden oldie who is 11 years young and now thriving under our care.
Daisy was run down by a car and left at the side of the road for 4 days until a member of the public called to say she was slowly dying. Sadly, due to the time she was left on the side of the road, spinal surgery was no longer an option.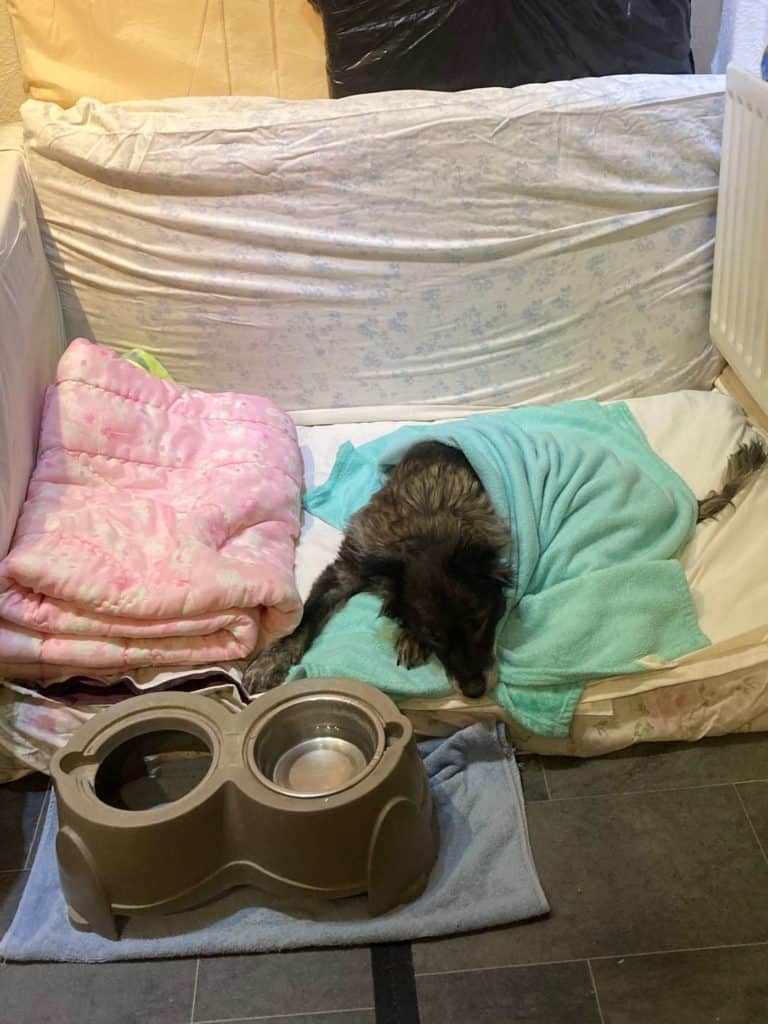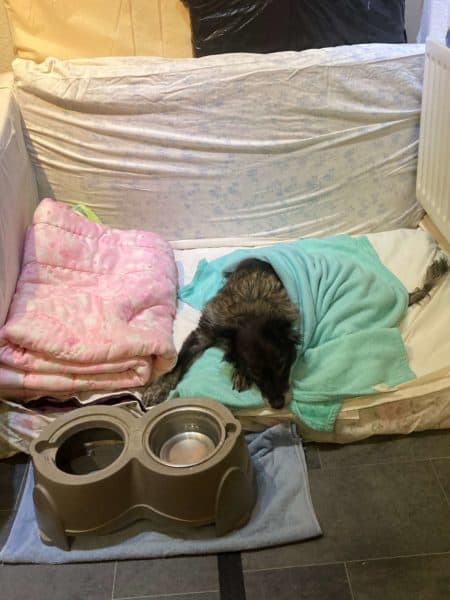 We admitted her to a specialist hospital for an MRI and X-rays which sadly showed complete paralysis and incontinence that could be not fixed.
Daisy was then transferred to our Kent team for further assessment under the supervision of our local orthopaedic specialist.
Sadly, once arriving with the Kent team, Daisy's back legs began to swell and our staff were having to manipulate her to urinate alone. She was therefore assessed to see if she was suitable for a double rear amputation. As with most of our disabled dogs, we amputate both back legs. This gives them less weight to pull, no friction burns or sores, and it also allows them to turn themselves in their beds without being held. However, Daisy's age was a huge worry as the surgery is very invasive.
In the first instance, we needed to check if Daisy had any onset arthritis. If arthritis is present, a double amputation isn't possible, as the dogs need to be able to hold their weight on their front legs in a wheelchair. The specialist therefore carried out further X-Rays to the front legs. Luckily the X-ray came back clear!
She then needed an abdominal ultrasound on her bladder to make sure it wasn't that which was leaking down into her legs and causing the swelling. The scan showed no bladder issue, but did show inflamed lymph nodes, which meant her immune system was weakened.
The specialist decided she was a good candidate for the double amputation even though the risk was higher at her age, so we went ahead with surgery. During surgery, Daisy's temperature and blood pressure dropped rapidly, which meant that the surgeon was not able to amputate the tail. However, the double rear leg amputation was successful.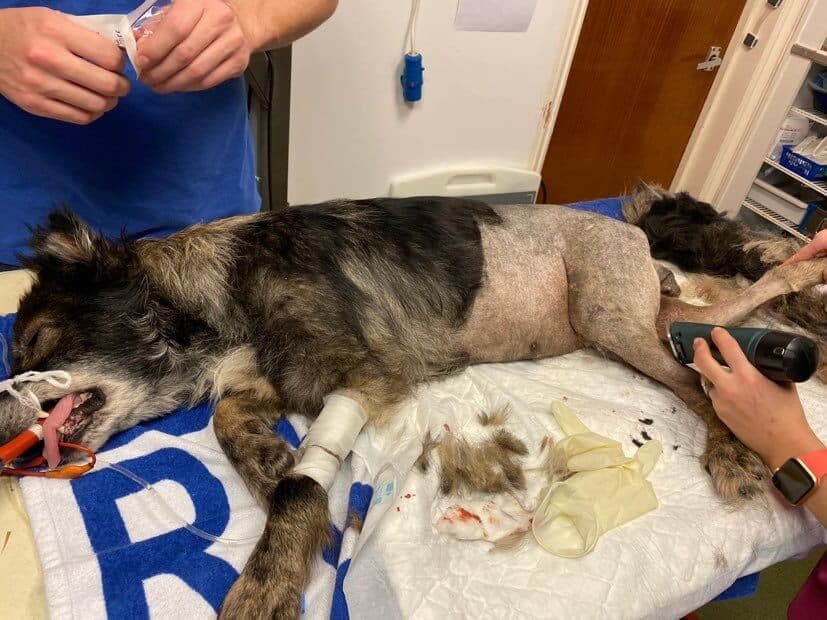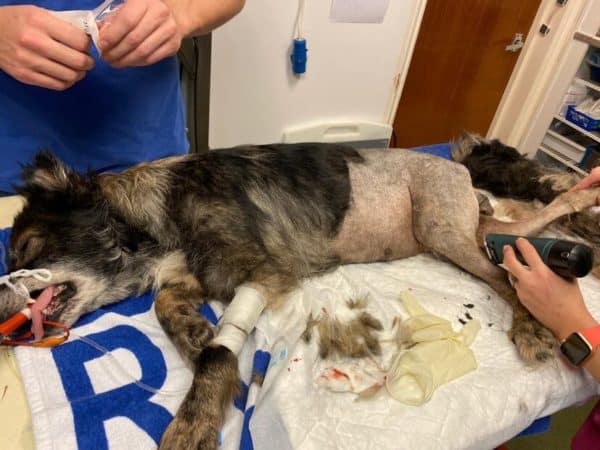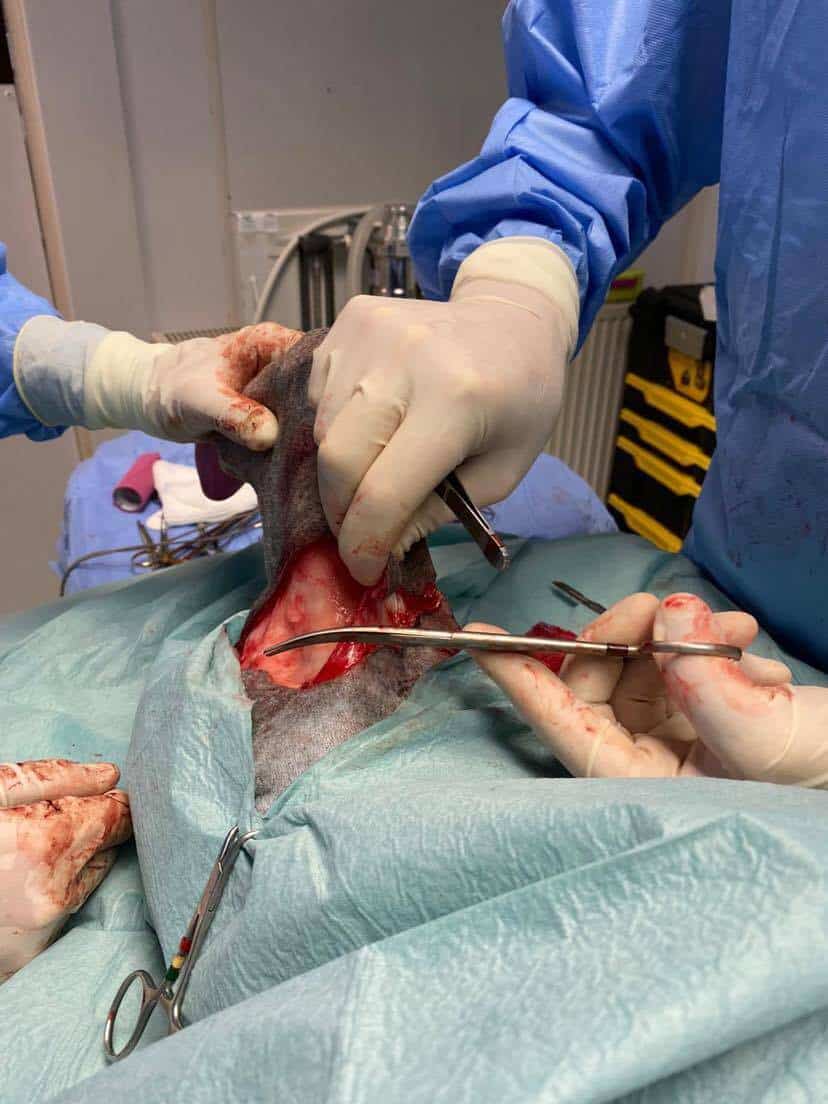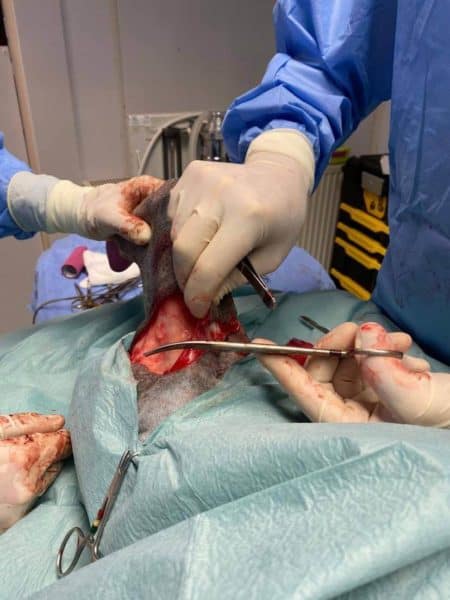 Daisy is now in recovery with us and healing very nicely. We now need to fundraise for her to get her very own doggy wheelchair to start enjoying the outside world again!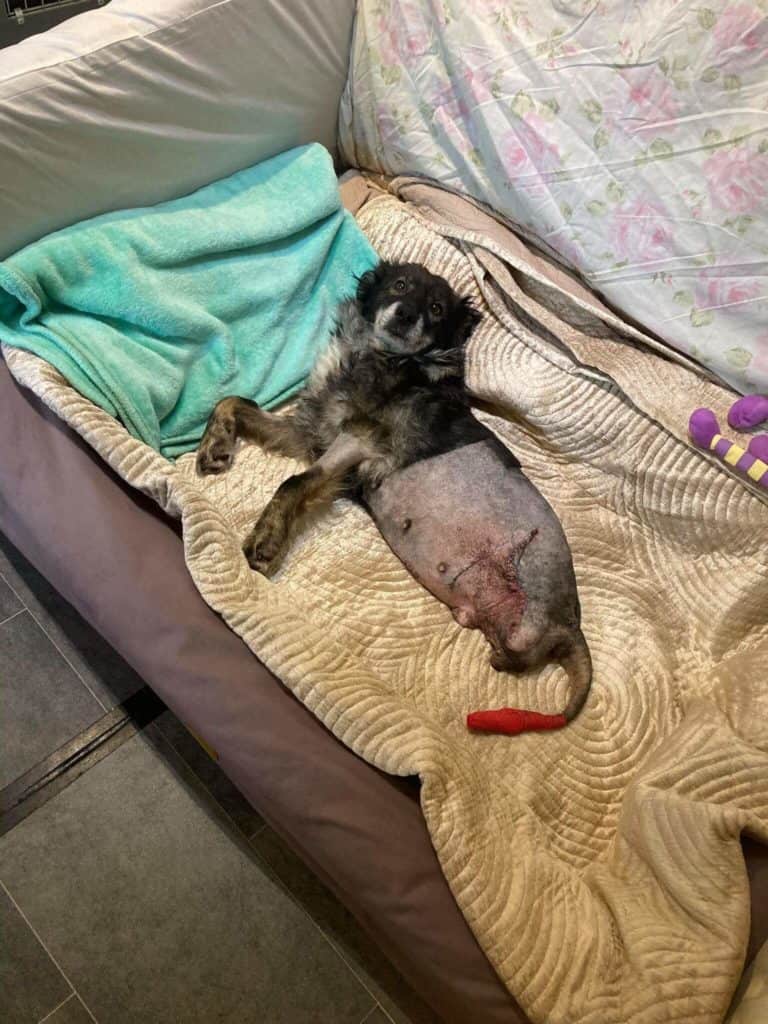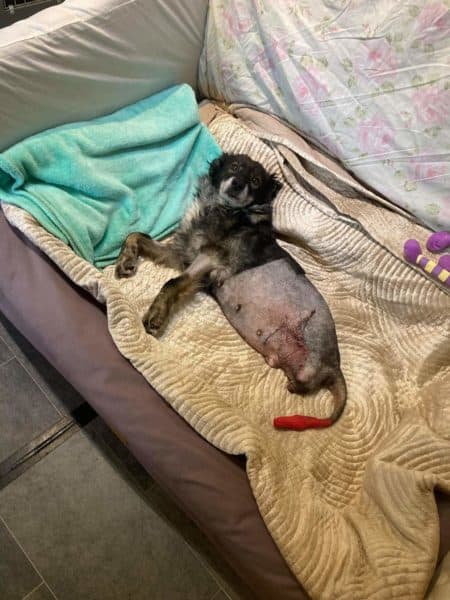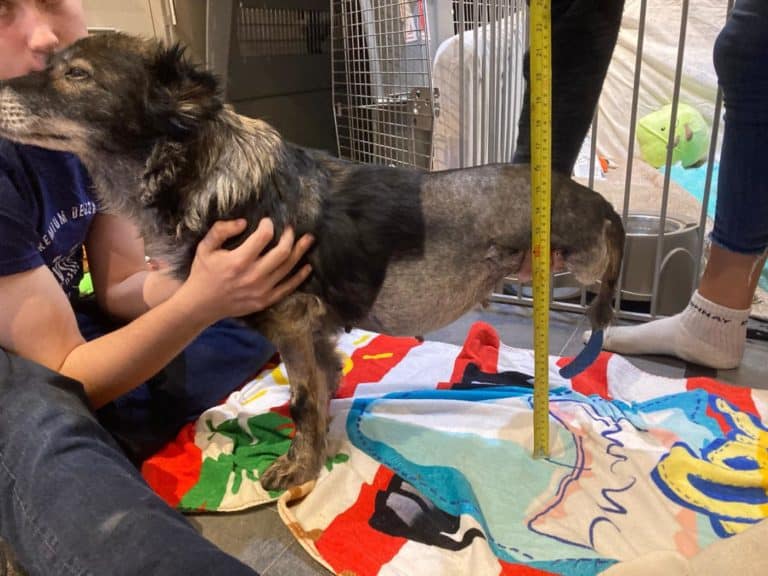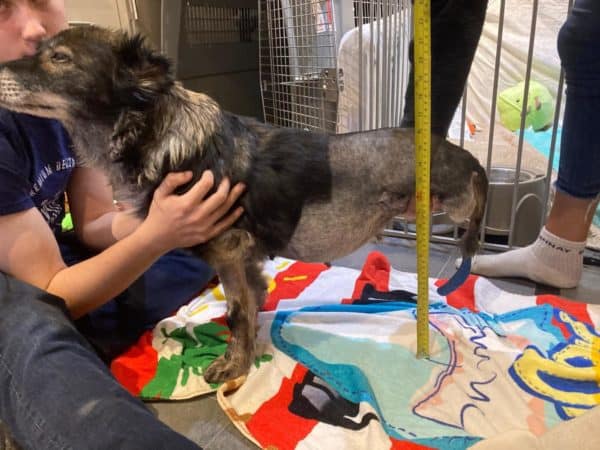 This was a very special and difficult case for the team and we are so proud to say Daisy is now on the road to a better life!
If you can help Daisy to have her tail amputation surgery and get her new wheels, either yourself, or through organising a small fundraising event, you can donate here. Thank you.