We are delighted to announce that we are now part of the Pets at Home VIP club, which means that if you shop at Pets at Home, you can also help us to rescue more animals in need!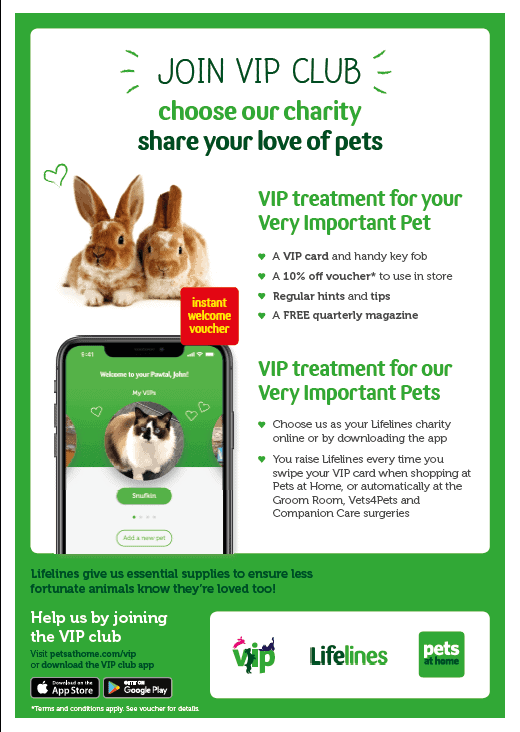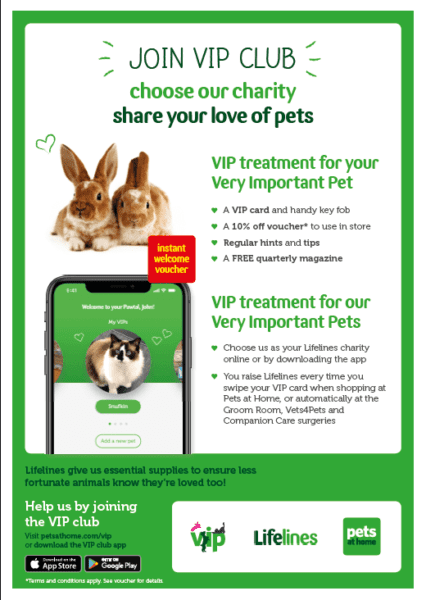 All you need to do is sign up to their VIP club and nominate Flori's Friends Rescue as your chosen charity. Each time you spend at Pets at Home, the Groom Room, Vets 4 Pets or Companion Care, you will be collecting Lifelines, which are then sent to us each quarter in the form of a Pets at Home voucher to help us buy the things we need to continue to look after our rescues.
Benefits of Joining the Scheme
a VIP (Very Important Pet) card and handy key fob
a 10% off voucher to use in store
regular hints and tips
a free quarterly magazine
donations to your chosen charity
How do I sign up?
Simply go to www.petsathome.com/vip to register for your VIP account. You then need to ensure you select Flori's Friends Rescue as your chosen charity. Please note, to do this, you will need to change your 'Home Store' to either Sturry Road – Canterbury, or Wincheap – Canterbury. This won't affect where or how you shop, it just ensures that you get the option to select Flori's as your chosen charity.
What happens to my Lifelines if I don't select a charity
You must login to www.petsathome.com/vip to select your charity. If you do not select a charity, your Lifelines will be pooled and directed to a default charity, so please make sure you select us if you would like to support Flori's.
What if you forget your VIP card when making a purchase?
Pets at Home will honour Lifelines for 30 days after purchase. Contact the VIP helpline and have proof of purchase ready. Alternatively, if you gave a mobile number upon signing up, your number can be keyed in at the till instead of presenting the VIP card.